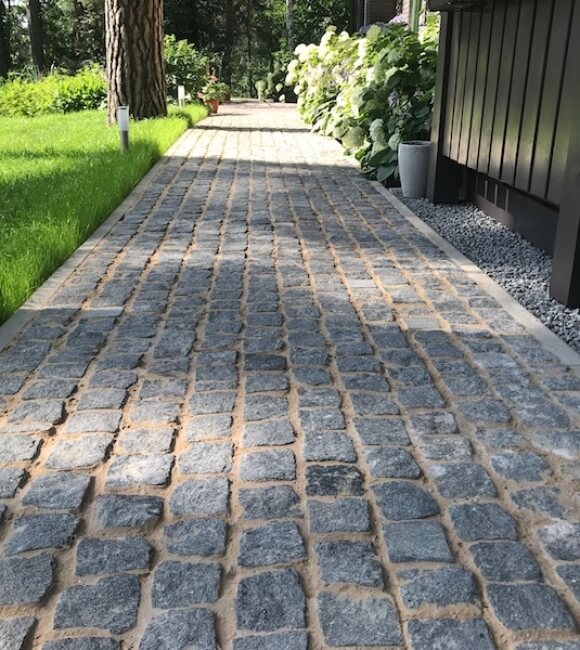 Granite cubic stone
Any owner is interested in the attractiveness of the pavement in the yard of his house. When planning such a project, the main attributes are durability and elegance. Therefore, the key point is to choose a quality material, which will be the embodiment of all requirements. Natural stone is a perfect material for exterior cladding, with durability, strength, easy maintenance and a pleasant appearance, which is very important. The properties of granite include: high resistance to scratches, abrasions and staining, extreme resistance to high temperatures, freeze-thaw and UV rays.
The material from which the product can be made:
Specifications
| | |
| --- | --- |
| Surface resistance | 5 |
| Porosity | Slightly porous |
| Natural fractures and cracks | There are few |
| Melting point | 1215 – 1260° C |
| Combination | Slightly visible |
| Dimensions of the plate | 2050*700; 3000*900; 3000*1900 |
| Available thicknesses, mm | 20; 30 |
Pros / Cons for
Is resistant to wear and tear and scratching.
Is water resistant.
Resistant to high temperatures and freezing.
Allows for invisible linkages.
Is available in a wide range of unique colors.
Is available in 2 cm or 3 cm thickness.
Demonstrates high hardness.
Has high weight, which must be propped by a solid support.
For unique models, in case of cracking and spoiling of a portion, the substitution of the deficient portion is difficult.
Subscribe to be the first to receive exclusive offers